Shoulder pain can be quite uncomfortable and lead to the loss of a certain amount of mobility in the arm. If the pain becomes acute, it may also cause insomnia because of the difficulty in finding a comfortable position in which to sleep. Shoulder pain can be caused by a number of issues, including inflammation of the tendons surrounding the shoulder muscles, arthritis, bone fractures, nerve problems, shoulder instability and certain medical conditions such as liver, gallbladder or heart disease. Shoulder pain may start out in just one spot, causing a constant, throbbing pain or it may radiate out along the length of the arm.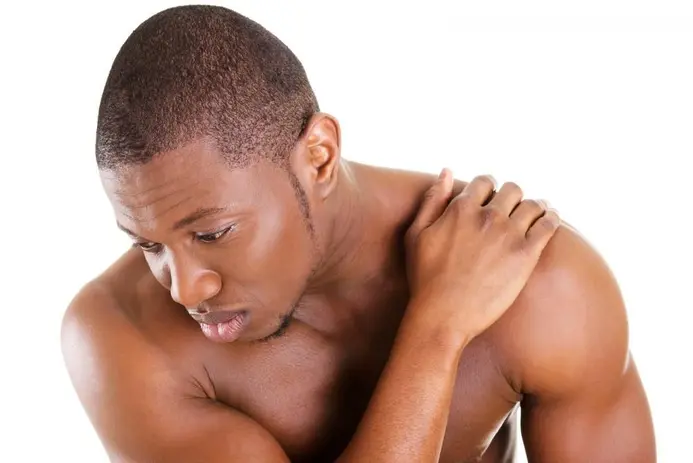 Treatments for Shoulder Pain
Luckily, with the proper treatment, shoulder pain can be successfully alleviated. There are a number of things that can be done to provide pain relief. Metro Atlanta Injury & Wellness Center is a full-service physical medicine and rehabilitation facility which allows our practitioners a range of options for administering treatment for shoulder pain and other physical discomforts. First and foremost, treatment for shoulder pain should involve rest and stabilization of the shoulder. Activities and movements that aggravate the affected area should also be avoided. Common treatments that we use in our office to address shoulder pain include targeted physical therapy, using ice packs to reduce painful inflammation, anti-inflammatory drugs, and for severe cases, various forms of surgery.
How Chiropractic Treatments Can Help
Although the chiropractors in our office, Dr. Adjei Mensah and Dr. Dena Jones, work alongside other healthcare practitioners such as physicians, physical therapists and nutritionists, they do advocate for holistic, all-natural healthcare and treatment whenever possible. Manual chiropractic adjustments may be able to shift misaligned joints back into place, thereby easing the pressure on pinched or compressed nerves that may be the underlying cause of shoulder aches and pains. Through a complete physical examination, which may include x-rays or MRIs, the health care practitioners try to closely pinpoint the source of the pain, so that the most beneficial treatment for each person's specific condition can be administered.
How Should I Handle Recurring Shoulder Pain?
Once healthcare practitioners have accurately diagnosed the source of your shoulder pain, they can begin to offer effective treatment for pain management, which may include a routine of shoulder pain exercises or other types of physical therapy. Your practitioner will work with you to come up with a regimen of treatment that works best for your physical condition, pain threshold, level of physical fitness and lifestyle.
We are chiropractors in College Park, GA and an Riverdale, GA who believe in humbly serving and educating the community in which we live and work. We are thrilled to be able to provide quality chiropractic care and to share our knowledge of holistic, healthy living with the residents of College Park, Riverdale, Hapeville, Union City, Atlanta, East Point, Forest Park, Fairburn and the surrounding areas. To help encourage the community to learn more about the benefits of chiropractic care, we are pleased to offer a FREE consultation to new patients.